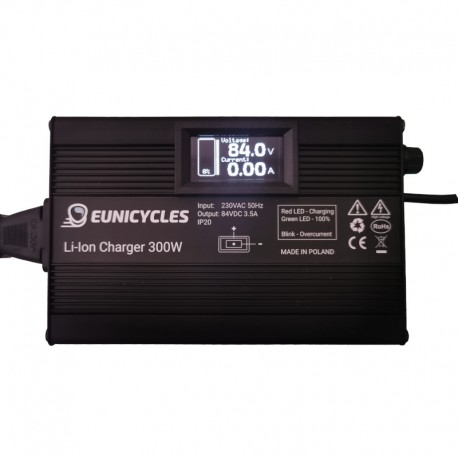 View larger
Smart Charger v4 300W for KS18L/XL,16X,S18
SC-380L
New product
Power: 300W
Voltage: 84V
OLED graphical display
Voltage and current information
Battery charge level information
Charged energy information
Fan silent mode
Adjustable level of charging cut-off
Adjustable charge speed (fast/slow)
Current regulation 0.5-3.5A
Build-in WiFi / Webserver
Cloud data collection
On stock
Warning: Last items in stock!
Availability date: 28/06/2019
More info
Thanks to the smart quick charger the charging process can be reduced twice.
Dedicated to all EUC 84V with Lenovo connector like: King Song KS18L/XL, KS16X, KS-S18
Read more about batteries and charging: All about Lithium-ion batteries for electric unicycles
The Smart Charger is prepare for each order. It have to be calibrated and tested. This mean the delivery time can be longer (around 2-3 days).
Data sheet
| | |
| --- | --- |
| Model | SC-380L |
| Weight | 1 kg (with cables) |
| Dimensions | 15.5 x 9 x 5 cm |
| Power | 300W |
| Voltage output | 84V |
| Current | 3.5A |
| Connector | Lenovo |